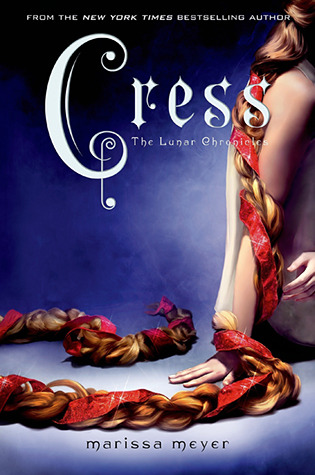 In this third book in the Lunar Chronicles, Cinder and Captain Thorne are fugitives on the run, now with Scarlet and Wolf in tow. Together, they're plotting to overthrow Queen Levana and her army.
Their best hope lies with Cress, a girl imprisoned on a satellite since childhood who's only ever had her netscreens as company. All that screen time has made Cress an excellent hacker. Unfortunately, she's just received orders from Levana to track down Cinder and her handsome accomplice.
When a daring rescue of Cress goes awry, the group is separated. Cress finally has her freedom, but it comes at a high price. Meanwhile, Queen Levana will let nothing prevent her marriage to Emperor Kai. Cress, Scarlet, and Cinder may not have signed up to save the world, but they may be the only hope the world has.
---
Cress is the third book in the Lunar Chronicles, preceded by Cinder and Scarlet. You can read my review of Scarlet here. In summary, I thought Cinder was okay, but not fantastic, and I loved Scarlet. I would rank Cress in between those two. I  loved the characters, the plot itself, and the world, but overall it didn't impress me quite as much as the second book did. The fairy tale this book is based off is Rapunzel, and I thought that once again Meyer did a fantastic job incorporating elements of the fairy tale in a creative way that was fun to see and compare to the original story.
I loved all the crazy things that were going on in the book, and the plot itself was awesome. It was such a roller coaster and it surprised me several times. There were several plot lines happening simultaneously, and while it was a bit overwhelming at times, it was a good way to tell the multiple aspects of the story. It introduces the new character, Cress, and adds her perspective to the story. I loved her! She was such an endearing character, and super easy to relate to and like. She reminded me of myself, since she was shy and easily embarrassed! She was a great addition to the cast. Honestly, all the characters and their relationships and interactions are just so much fun to read about.
Where the book fell short was the length and the pacing. It is a rather large book (by my standards), and the pacing felt slow. There was a lot I felt could have been cut out. Somehow a lot was happening but it still felt like nothing was happening. Does that make sense? Because that was how I felt. I still felt invested in the story because I love the characters, but it was difficult to care a lot when things were happening so slowly. It was strange, because I liked the plot, yet the pacing was still really off, and it kept me from enjoying the book as much as I had wanted to. It really picked up the past 150 pages or so though, and from then on I was completely engrossed.
I felt that the world was developed more fully in this book and I was so happy about that ! The tension between Luna and Earth just gets more and more intense, and I need to know what's going to happen next. The set-up for Winter was so interested and I'm incredibly intrigued to learn more about our new character and her life. We only have to wait a year. Yay. At least there is a novella coming out in January. Anyways, I know that anyone who loved Cinder and Scarlet will love Cress too. The same great characters are still here, but I just thought it wasn't as interesting or engrossing as I found Scarlet to be. Still an awesome book!
Genre: YA Science Fiction
Length: 550 pages
Publisher: Feiwel & Friends