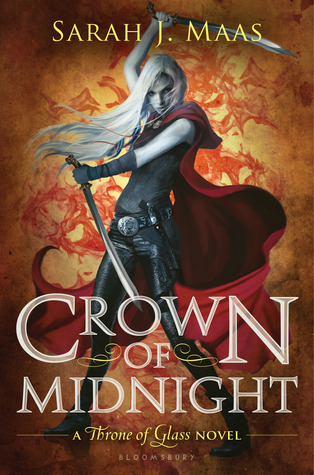 From the throne of glass rules a king with a fist of iron and a soul as black as pitch. Assassin Celaena Sardothien won a brutal contest to become his Champion. Yet Celaena is far from loyal to the crown. She hides her secret vigilantly; she knows that the man she serves is bent on evil. Keeping up the deadly charade becomes increasingly difficult when Celaena realizes she is not the only one seeking justice. As she tries to untangle the mysteries buried deep within the glass castle, her closest relationships suffer. It seems no one is above questioning her allegiances—not the Crown Prince Dorian; not Chaol, the Captain of the Guard; not even her best friend, Nehemia, a foreign princess with a rebel heart. Then one terrible night, the secrets they have all been keeping lead to an unspeakable tragedy. As Celaena's world shatters, she will be forced to give up the very thing most precious to her and decide once and for all where her true loyalties lie…and whom she is ultimately willing to fight for.
---
Crown of Midnight is the sequel to Throne of Glass, which was the last book I read. You can read my review for Throne of Glass here.I thought it was okay, but I've heard this sequel is much better. Normally I don't read series or sequels right after one another because I enjoy them less that way, but I saw this in the library when I was looking for something to read that was quick and easy, and I thought why not? And I can say that this definitely delivered on my expectations for it to be fast-paced and hard to put down. I did like it a lot better than it's predecessor, but I still didn't love it quite as much as the people I've heard gushing.
The conflict drastically intensifies, and I found myself caring about characters and reacting to the events, a contrast to my indifference in Throne of Glass. They were developed a lot better and I was much more invested in the store and the outcome because I liked the characters more. They had really genuine emotions and depth and that was a big improvement. It was packed with a lot of action, and full of twists and turns. The plot wasn't predictable (although I accidentally spoiled myself *sigh*) and I couldn't put the book down because I wanted to know what was going to happen. There were lots of crazy events and revelations, and a huge surprise at the end that makes me want to read the next book right now. In general, it just felt much realer, darker, and so much more interesting.
I still didn't love the fantasy parts or world building. I think that is just my personal preference though, and if you like fantasy, you might like the world, but I just don't yet. Also, Celaena was really frustrating for a substantial part of the novel. If you've read it, I'm sure you know what I'm talking about! While the conflict gave Celaena a lot more depth and interest, and helped her grow as a character, I thought she was being completely unfair and it made me want to tear my hair out. While it may have made it a better novel, it still took away from my enjoyment of the story. Maybe it's a good thing that I cared so much? My final verdict is that Crown of Midnight is more action-packed, character-driven, well-plotted, and dark than Throne of Glass, but there was just a disconnect with the fantasy world for me, so it's not one of my favorites. Nonetheless, I'm really looking forward to getting my hands on Heir of Fire soon!
Genre: Young Adult Fantasy
Length: 420 pages
Publisher: Bloomsbury