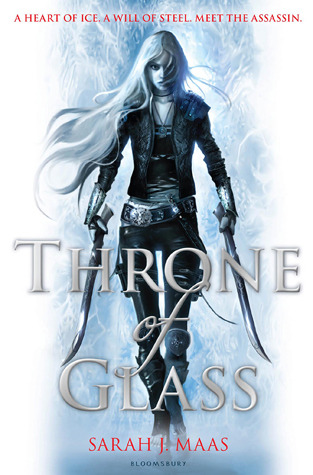 In the dark, filthy salt mines of Endovier, an eighteen-year-old girl is serving a life sentence. She is a trained assassin, the best of her kind, but she made a fatal mistake: she got caught.
Young Captain Westfall offers her a deal: her freedom in return for one huge sacrifice. Celaena must represent the prince in a to-the-death tournament—fighting the most gifted thieves and assassins in the land. Live or die, Celaena will be free. Win or lose, she is about to discover her true destiny. But will her assassin's heart be melted?
---
I finally read it! Basically everyone else has already read this, and I had been interested in it forever, but didn't really feel compelled to give it a chance anytime. Since the third book in the series recently came out, I decided that maybe it was time to pick it up. This book has been hyped so much, and, after finishing,  my feelings on it are really indifferent. I was underwhelmed. There wasn't necessarily anything I really liked or disliked.
I wasn't very invested in the characters, nor the plot. It was all a little bit annoying and melodramatic, and didn't quite deliver on what the premise promised. The characters weren't very well developed, and the plot, while enjoyable, didn't have much substance. I wasn't really impressed by the world-building either. The only things that were mentioned were the ones directly related to the plot, leaving the world lacking. I'm not a big fan of fantasy, so maybe I just wasn't very interested. Despite all that, I will admit that Throne of Glass is incredibly readable and engrossing. I just needed to keep reading, and I flew through it.
I'm actually currently reading the second book, because I've heard it's much better than this one, and honestly, I really need some quick reads right now. If you are looking for a quick, enjoyable read, this will may work well for you. It was by no means terrible, but it wasn't great. Sorry to all the people who loved it! I don't really have anything to say except I found the story to be generic and the execution mediocre.
Genre: Young Adult Fantasy
Length: 406 pages
Publisher: Bloomsbury