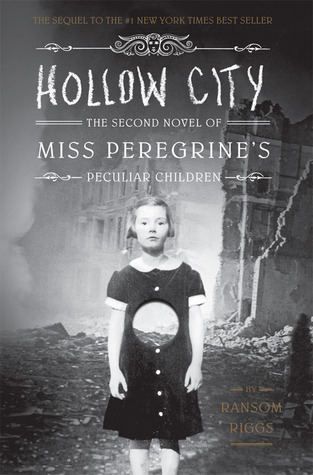 This second novel begins in 1940, immediately after the first book ended. Having escaped Miss Peregrine's island by the skin of their teeth, Jacob and his new friends must journey to London, the peculiar capital of the world. Along the way, they encounter new allies, a menagerie of peculiar animals, and other unexpected surprises.
---
Hollow City is, as the synopsis says, the sequel to Miss Peregrine's Home for Peculiar Children, which I read about two years ago. I had forgotten a lot of specifics about the first book, although I remembered really liking it. I would recommend reading this one close to Miss Peregrine's, although it won't be a big problem if you don't. There is a rather large cast of characters who all have different abilities, and I couldn't remember who was who and what they did, and what had happened in the cliff-hanger ending of the first book. I managed fine though, and ended up really liking this installment, though not as much as I enjoyed the first.
Hollow City is heavy in historical fiction aspects as well as magical realism. The book takes place during WWII, and overall has a very bleak atmosphere. I found the historical elements and magical realism to blend and mesh together well, which was impressive. Often times, adding fantastical elements to a historical backdrop, and using events from those periods feels forced and strange, but it all fit really well here for me.This novel also features vintage photographs embedded in the story. I thought they were utilized very effectively, and added a lot to the story, probably even better than it did in it's predecessor, which is surprising. They gave the story a darker, grittier feeling, and made the events feel more concrete and believable.
The biggest problem with the book was the plot. It often rambled in random directions, and included unnecessary filler. Especially at the beginning, it felt like they were just chased from one place, then went to another, then another, for no specific reason and it felt repetitive. This may have been because the photographs guided the direction of the story, and using them as an outline makes for a very episodic and sometimes not cohesive story. It would have benefited from some substance and concrete direction. Sadly, this seems like something that happens to a lot of second books, and I hope it will improve in the third book.
I found the prose in Hollow City lovely, and it fit perfectly with the mysterious, almost fairy-tale like tone of the book. I really loved the writing and Jacob's voice. Jacob's struggles with belonging and fitting in with the peculiars carry over from the first book, and are really interesting. Overall, I think I didn't enjoy the sequel as much was because the first book had more comparison and involvement in the real (or present) world, and explored Jacob's place in both worlds. The plot was more slow-building and unique, and had a more ambiguous and open to interpretation storyline. But the ending of Hollow City was incredible! It ended so excitingly and had a twist that definitely shocked me. I'm so worried about the characters and I can't wait to see what happens next!
Genre: Young Adult, Historical Fiction, Magical Realism
Length: 396 pages
Publisher: Quirk Books