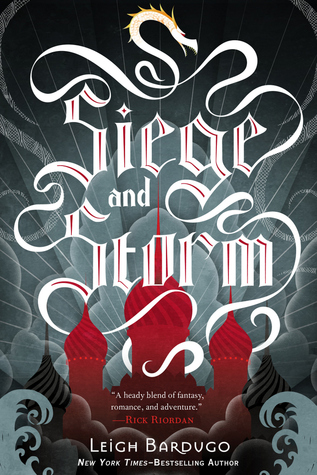 Hunted across the True Sea, haunted by the lives she took on the Fold, Alina must try to make a life with Mal in an unfamiliar land. She finds starting new is not easy while keeping her identity as the Sun Summoner a secret. She can't outrun her past or her destiny for long.
The Darkling has emerged from the Shadow Fold with a terrifying new power and a dangerous plan that will test the very boundaries of the natural world. With the help of a notorious privateer, Alina returns to the country she abandoned, determined to fight the forces gathering against Ravka. But as her power grows, Alina slips deeper into the Darkling's game of forbidden magic, and farther away from Mal. Somehow, she will have to choose between her country, her power, and the love she always thought would guide her–or risk losing everything to the oncoming storm.
---
 Siege and Storm is the second book in the Grisha trilogy, coming after Shadow and Bone. I was lukewarm about Shadow and Bone, but I was really interested about where the story was going after the first book, and I'm happy to say that I preferred this to the first book. I found the plot and character dynamics way more interesting, and it was really exciting and fast-paced.
Lots of things I weren't quite satisfied with in the first book were definitely improved upon. Siege and Storm felt less generic and had much more personality and world-building. Alina was awesome and not annoying! And it was thrilling, not resembling a  high school for a big part of the book. This book is more political and serious than the first one. It felt much darker and more morally ambiguity abounds. I was really invested in the story, and I felt the tension and desperation. I was probably more interested because I liked the main character, Alina, a lot more. She becomes a lot less shallow and arranges her priorities to realize that looks aren't really that important and she becomes a much stronger, assertive presence. She struggles with a hunger for power and how to deal with her increasing importance and how it affects her and those around her. Her relationship with Mal (and the Darkling) becomes more complicated and their problems were real and felt urgent. Although Mal did occasionally get on my nerves because of his whining. His character is developed and matures more in this installment too. The world is developed more fully and the culture is still really interesting. Bardugo's writing is lovely and the descriptions of food and clothes and scenery are gorgeous. There are lots of details, but it's not oppressive, and you really feel like you know the well-developed characters.
The story was a perfect mixture of characters, politics, and action. I loved the darkness and the risks taken in the plot, and the religious components were also incredibly intriguing. Between the interesting world and the fantastic writing, I'm really interested to see where the next novel will go. The ending was so crazy and unexpected! I can't wait to see how the series wraps up and what I'll think about it.
Genre: Young Adult Fantasy
Length: 432 pages
Publisher: Henry Holt and Co.