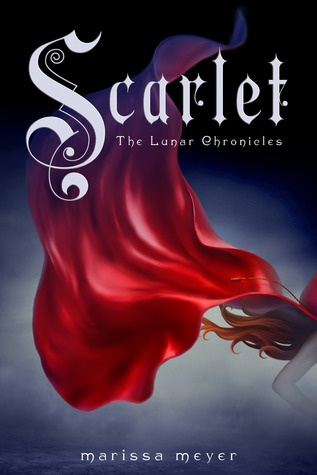 Cinder, the cyborg mechanic, returns in the second thrilling installment of the bestselling Lunar Chronicles. She's trying to break out of prison–even though if she succeeds, she'll be the Commonwealth's most wanted fugitive. Halfway around the world, Scarlet Benoit's grandmother is missing. It turns out there are many things Scarlet doesn't know about her grandmother or the grave danger she has lived in her whole life. When Scarlet encounters Wolf, a street fighter who may have information as to her grandmother's whereabouts, she is loath to trust this stranger, but is inexplicably drawn to him, and he to her. As Scarlet and Wolf unravel one mystery, they encounter another when they meet Cinder. Now, all of them must stay one step ahead of the vicious Lunar Queen Levana, who will do anything for the handsome Prince Kai to become her husband, her king, her prisoner.
---
Scarlet is the sequel to Cinder, which I read this summer. Scarlet is a bit different than Cinder, which was told mostly through Cinder with occasional flashes to other important characters, while Scarlet keeps the same style but adds an extra perspective (guess who's!). This keeps the story really exciting and moving at a breakneck pace, and helps because Scarlet and Cinder are in different places for most of the story. This is a fairly large book, although it goes by quickly, and things rarely stop happening. There was so much action, it flows well, and it's written simply so it's easy to fly through. It was fantastic for a weekend read that I could finish before school started again for the week. 
I wasn't entirely convinced of the series by Cinder, which I liked, but didn't quite deliver for me, but the end was a bit of a cliffhanger and really made me want to read the next installment. I preferred this novel to Cinder, because I thought the plot was a lot more interesting and I liked the new characters, and Cinder, more. Scarlet is a brave, determined, and an overall charismatic, interesting character. A lot of times in a companion type of book, it can be hard to make the reader like a new character and be interested in them, instead of only caring about the character from the first book, but that's not a problem here. I was equally enthralled in both story lines. Scarlet's love interest Wolf is also introduced. I was also invested in his story and I felt so bad for his plight. He's a really complex character in a really crazy situation (kind of like a lot of the other characters). Sadly, I didn't really like them together. I thought it was too predictable, they were lacking genuine chemistry, and I didn't think that Scarlet should have acted like she did. Another new character, Thorne, was really fun, and lightened up the mood a when the situation was dire and felt helpless.
My biggest quarrel with the book was setting. The setting sounds interesting in a blurb, like in Cinder, but it just doesn't deliver. While there are technological devices, they are a bit generic. In Cinder the big draw is that it's set in a futuristic China, but other than a random bit of decorating or info thrown in, you never would have been able to tell. I actually forgot it was set in China until the name of the city, New Beijing, was mentioned. It's the same in Scarlet, but this time in France. Other than the occasional Mademoiselle and the fact that Rieux and Paris are mentioned often, you never would have been able to tell. There was a lot of potential to develop the settings, but it was more of an afterthought, and it was disappointing. Other than this, I didn't really have any major problems, just like annoyances here and there. 
Scarlet is based on Little Red Riding Hood, and just like Cinder, elements of the fairy tale and it's plot were woven in and used creatively. The story and plot of Scarlet feels familiar and predictable sometimes, but still full of twists and turns. In fact, knowing the story and anticipating and guessing what will happen is part of the fun of the story. The end makes me want to read Cress so much! I'll definitely be picking it up pretty soon. Meyer really knows how to write a fast-paced book and finish it well.
Length: 452 pages
Genre: Young Adult, Science Fiction, Fairy Tale Retelling
Publisher: Feiwel and Friends