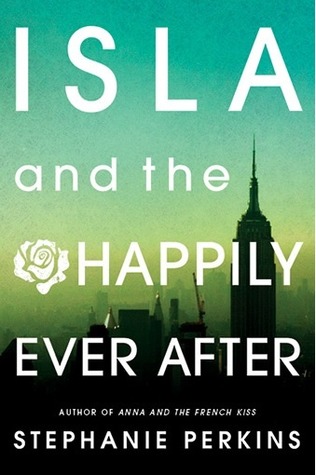 From the glittering streets of Manhattan to the moonlit rooftops of Paris, falling in love is easy for hopeless dreamer Isla and introspective artist Josh. But as they begin their senior year in France, Isla and Josh are quickly forced to confront the heartbreaking reality that happily-ever-afters aren't always forever.
Their romantic journey is skillfully intertwined with those of beloved couples Anna and Étienne and Lola and Cricket, whose paths are destined to collide in a sweeping finale certain to please fans old and new.
---
This book is different from what I was expecting, and I think my very high expectations hurt me a bit. I really wanted to love it, but I couldn't. I still don't hate it and I didn't think it was in any way a bad book. There were some things that really bothered me, but it grew on me by the end, and I realized that there were elements that I did like, and some I had conflicting feelings about.
Let's just start with the things that bothered me. Isla is obsessed with Josh. In every single situation, I felt like the only thing she thinks about was Josh. She's one of those girls whose boyfriends become everything to them, they forget about all their other responsibilities and friends, and they become nothing other than a girlfriend. And when she's reminded this or reprimanded about it, she thinks " They just don't understand. Josh is the most important thing and nothing else matters." She is also really jealous, and I was waiting for her to realize that jealously is bad and harmful, but she didn't. The thing is that these elements are really similar to many real life teenage relationships, so I guess it's a good thing to portray a realistic situation, but the problem is that it was never condemned. This was a great opportunity for Isla to learn the lesson that obsessing and jealousy is bad, but she never did.
I felt like Isla as a character could have been developed better, as it seemed like she didn't have a personality until the second half of the book. And even then her personality was that she was self-doubting and unsure about herself and her identity. That makes her even more realistic, and shows why Josh was so important to her. Isla was someone who I simultaneously liked and disliked, although she definitely frustrated me sometimes. I didn't have a problem with Josh's character development, although I disliked him. That was just a personal preference as I found him arrogant and annoying. Their love was very instalove and I never understood why their relationship was so important and why they loved each other so much. I would have enjoyed and been able to lose myself in the story if I liked the love interest and understood their relationship. The plot also could have used some excitement instead of just being filled with angst, and it was pretty predictable.
I did really love the writing, setting, and the descriptions of Josh's art. His art was interesting and Stephanie Perkins described it beautifully. The backdrop of Paris was lovely, although I feel that Manhattan could have been utilized better. I also did relate to Isla. She has difficulty taking risks, making friends, and often hides behind schoolwork and books. I do the same thing, and I felt sympathetic for her difficulties and feelings of inadequacy. Isla's relationship with her sisters is one of my favorite aspects, and made me enjoy the story more near the middle.The problems I previously mentioned were alleviated somewhat about two thirds in and made me a lot more sympathetic to the book. Isla matures and grows as a person and I felt happy about that! Isla's best friend Kurt was also really cool, and I was so sad when she forgot about him and ignored him for a while. I'm glad they reconciled! I wish he was a more developed and featured more heavily in the book, because I really liked him. And speaking of good parts, who can forget the meet up scene! It was amazing and lovely. There were also some really cute scenes that I would like rereading over and over again.
Isla is very different from Anna and Lola, because Isla and Josh are very different kinds of people with  very different histories. I think Isla is in a lot of ways a more grown up and realistic story. It's chaotic, passionate, and raw. It shows how difficult it is to make relationships work and function. I really appreciated that, even though not all of it was executed to my liking. It has an interesting atmosphere, and despite the differences, it still has a lot of cute scenes and it is enjoyably readable. I don't want to offend anyone, and I understand why some people love it. I think fans of Anna and Lola will still really enjoy Isla, probably more than I did, and I wish I had enjoyed it as much as most others.
Genre: Young Adult Contemporary
Length: 339 pages
Publisher: Dutton