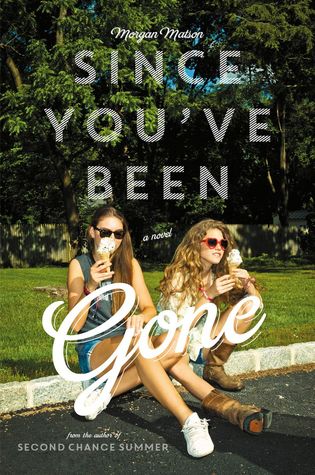 The Pre-Sloane Emily didn't go to parties, she barely talked to guys, she didn't do anything crazy. Enter Sloane, social tornado and the best kind of best friend—the one who yanks you out of your shell.But right before what should have been an epic summer, Sloane just… disappears. No note. No calls. No texts. No Sloane. There's just a random to-do list. On it, thirteen Sloane-selected-definitely-bizarre-tasks that Emily would never try… unless they could lead back to her best friend. Apple Picking at Night? Ok, easy enough.Dance until Dawn? Sure. Why not? Kiss a Stranger? Wait… what?
Getting through Sloane's list would mean a lot of firsts. But Emily has this whole unexpected summer ahead of her, and the help of Frank Porter (totally unexpected) to check things off. Who knows what she'll find?
---
For some reason I was expecting this to be different from what it actually is. I thought it was going to be kind of dark and mysterious, and I still feel like there was some lost potential to make it really edgy and different. I have no idea why, probably because all that I heard about it was "best friend disappears and leaves a list of daring things to do". That's ok though, and I did like the book. It's definitely not edgy, in fact it's pretty predictable. It's not an overly fluffy contemporary, but it still is one.
That might be why I couldn't really get interested in the book for the first two hundred pages (or the fact that those pages were boring and Emily was super awkward and nothing was happening). Who knows? However, once I got to that point I really did start to like it. Emily started to grow a lot as a character, and I loved her development since she reminds me of myself in some ways, especially in her awkwardness and dislike of new situations. Her parents and friends are fun, and the romance is pretty typical but still sweet.
Speaking of the romance, it was refreshing that in a contemporary, it wasn't a main focus, and the focus was placed more on friendship and self-growth. That's a nice change, and I liked the way Emily and Sloane's friendship ended up and I loved Collin's remark about summer friendships. It was just so true, and relatable. The book's commentary in general on summer and how people change and how your perspective is different was also interesting.
So while the book wasn't what I wished it would be,and dragged sometimes (it's 450 pages, which is long to me, especially with not much happening), I did end up liking it and it is a great read for summer time, or for when you miss the summer.
Genre: Young Adult Contemporary
Length: 450 pages
Publisher: Simon & Schuster