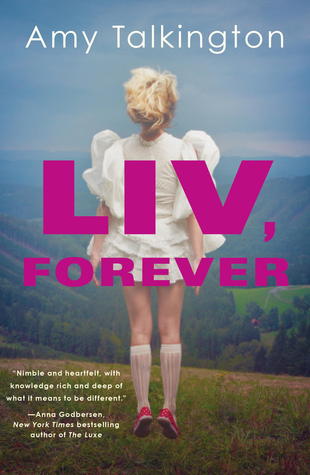 When Liv Bloom lands an art scholarship at Wickham Hall, it's her ticket out of the foster system. Liv isn't sure what to make of the school's weird traditions and rituals, but she couldn't be happier. For the first time ever, she has her own studio, her own supply of paints. Everything she could want. 
Then she meets Malcolm Astor, a legacy student, a fellow artist, and the one person who's ever been able to melt her defenses. Liv's only friend at Wickham, fellow scholarship kid Gabe Nichols, warns her not to get involved, but life is finally going Liv's way, and all she wants to do is enjoy the ride. But Liv's bliss is doomed.
---
This novel is a pretty new release, for my standards at least (March), and it is the author's debut novel. I was intrigued by the synopsis, and I was pulled in by it's beautiful cover. I really enjoyed it, and it was very easy to read. I found all the characters very likable and relatable. The paranormal elements were done very well. And of course, boarding school stories are always fun.
I didn't love it. The characters don't have much depth, even though they claim too, with overbearing parents and foster care. I just felt like the characters, their development, and the emotions they felt from their difficult experiences in life, were pushed aside for exciting plot and ghosts, when there really was opportunities to explore them and the secondary characters. There is also a case of insta-love, which is mildly annoying but didn't really bother me. Speaking of ghosts, I didn't find the paranormal elements scary. I wasn't expecting them to, but it would have been a nice bonus. Despite this, the plotting was also well done, and I wanted to keep reading to know what had happened and how it was going to be resolved.
Throughout I found Liv, our main character, enjoyable and interesting (if a tad self-centered) along with the other protagonists, although her personality was shoved aside part way through.The writing is also very pretty and descriptive, and sets a slightly haunting, mysterious tone. Liv is an artist and frequently mentions art, especially when sneaking around at night, adding to a haunting feeling. A great addition was the small stories scattered throughout the novel form the perspectives of those who attended the school in the past. All in all, this was a great mystery/ paranormal story with pretty writing, although it lacked some genuine depth, and was a little too heavy on the romance.
Genre: Young Adult, Paranormal, Mystery          
Length: 280 pages
Publisher: Soho Teen